May 11, 2023
In July, Iasi becomes the capital of international tennis. Two ATP and WTA tournaments will take place at the Ciric Sports Base in Iasi
The Iași Open international tennis tournaments opened today with a press conference announcing the details and news of the 4th edition of the Concord Iași Open, the ATP Challenger 100 tournament and the 2nd edition of the BCR Iași Open-WTA 125.

In the week of July 10-16, the men's tournament Concord Iași Open - ATP Challenger 100 takes place, the most important men's tennis tournament in Romania, in its 4th edition, followed by the women's tournament BCR Iași Open - WTA 125 in its second edition , the most watched tennis tournament in Romania in 2022.

The event was attended by: Mihai Chirica, mayor of Iași, Daniel Dobre, director of the WTA 125 BCR Iași Open tournament, Andrei Pavel, director of Concord Iași Open, ATP Challenger 100, Andrei Orita, representative of Concord Service Center, holder of ATP Challenger 100 and WTA licenses 125, Nicoleta Grăjdianu, regional director of BCR, the main sponsor of BCR Iași Open.

"We manage to attract attention at the national and international level, we manage to show the image of a normal city for a developed Europe, where people feel good, where people come to see beautiful things, walk around, participate in a tennis tournament or tennis tournaments, they can enjoy a natural setting that is rarely found for a sports base in a forest with the possibility to complement it with an artistic taste suitable for our city, maybe at the Opera, maybe at the theater." - said Mihai Chirica, Mayor of Iași

"Iași Open is the most important tennis tournament of the summer and we are expecting spectators from the whole country and abroad. The Concord Iași Open and BCR Iași Open tournaments will bring together top players and draw attention to Iași, which will be promoted nationally and internationally. From today, registrations open for volunteers, ball kids and linesmen and media credentials. We thank all the sponsors and partners who are with us in this edition" - points out Maria Tudor, director of marketing and communication Iași Open

Tennis players from the ATP and WTA circuits come to the Ciric Sports Base between July 10-23, 2023

The men's Concord Iași Open is a 100-point ATP tournament with total prize money of $130,000 featuring players ranked between 70 and 350 ATP, with a 32-player singles main draw and a 16-team doubles draw. The BCR Iași Open women's tournament is a 160 WTA points tournament, with total prizes of $115,000, in which players ranked between 50 and 350 WTA participate, with a main draw of 32 singles players and a doubles draw of 16 teams.
"Our identity is to offer an exclusive experience, because around 40 cities around the world can say that they host both a women's tournament and a men's tournament in the same year. One of the communicated values ​​is transparency and we want to provide more information about the impact and dimensions of the organization of the two tournaments. The organizing budget, approved in the 2022 edition and estimated for 2023, is around 870,000 euros and we want to maintain it due to our commitment to corporate social responsibility. The effect of the investment in the two tournaments reaches a return on investment in the Romanian state budget between 57% and 62%. - points out Andrei Orita, Concord Service Center, holder of ATP and WTA licenses
"I wish that our boys, as Ana Bogdan managed to win the trophy last year, now reach the final stages, a semi-final or even a final. That would be great. And we want many spectators" - adds Andrei Pavel, Director of Concord Iași Open
"Gabriel Iftimoaie and Andrei Orita are among the few in Romania who invest in tennis and I really appreciate what they do. I am honored to be in Iasi and I always come with pleasure. The women's tournament is in the first week after Wimbledon, it is very difficult to specify from now which players we will have. Wild cards will be awarded to local players, hopefully they will be in form. We are talking about Andreea Prisăcariu, Ilinca Amariei, and Oana Simion probably in the qualifications. It will be two enjoyable events, which I hope will attract more spectators than last year, two events which are already at a very high level in terms of recognition in the country." – mentions Daniel Dobre, Director of BCR Iași Open
The male tournament trophies are made by the sculptor Valentin Duicu, and the female tournament trophies, Luceafarul, are made and offered by Casa de Bijuterii Malvensky.

The capacity of the central arena in the Ciric Sports Base is about 1,200 seats, which includes stands and boxes. And the number of seats on the secondary field is increased this year from 100 to 250 seats.

Matches will be played in day and evening sessions. The WTA 125 tournament benefits from the Electonic Line Calling system, a high-tech referee calling service that ensures maximum precision and accuracy.

Tickets are available on the entertix.ro platform and in Cărturești stores in the country, and prices vary between 45 and 150 lei. Children under 7 have free access. Details about access and tickets are available on the entertix.ro platform, but also on the social media accounts of each tournament.

The tournaments are organized by the Iasi Open Sports Club Association in collaboration with Concord Service Center and Iasi Municipality City Hall.

The main sponsor of the ATP Challenger 100 tournament is Concord Service Center, joined by Nera Computers, Met Energy Romania, Romgaz, BCR, BCR Leasing, Catena, Alcalia, the official water of the tournament and AdServio. The official car is Toyota, provided by the Sandra group.

The WTA 125 tournament, BCR Iași Open has the main sponsor BCR, along with Concord Service Center, Nera Computers, Romgaz, Catena, Alcalia and QEsthetic from Iași. The official car is the Audi, provided by the Sandra group.

"It is an honor to be with those who believe, like us, in the development of the community by supporting important events. Our relationship with tennis dates back many years and we can see a continuous development and involvement, especially in Iași. Because tennis has common values ​​with us in terms of will, perseverance and consistency in achieving financial independence and financial health. This is actually our concern for our customers, financial health" - Nicoleta Grăjdianu, regional director of BCR
The partners supporting the two events are: Iulius Group, Rodotex, F Egidio, Evo Horeca, Gramma Wine, Vitamin Aqua, Oxygen, Tanqueray, Oobood, Cuptorul Moldovencei, Expert Vision.

***
Iași Open is a sports event owned and organized by the Iași Open Association and the Concord Service Center in collaboration with Iași City Hall.
Both competitions are organized by Concord Service Center, the main sponsor of the ATP tournament, in partnership with Iasi City Hall and the Romanian Tennis Federation. The tournament with WTA 125 status is sponsored by BCR as the main sponsor.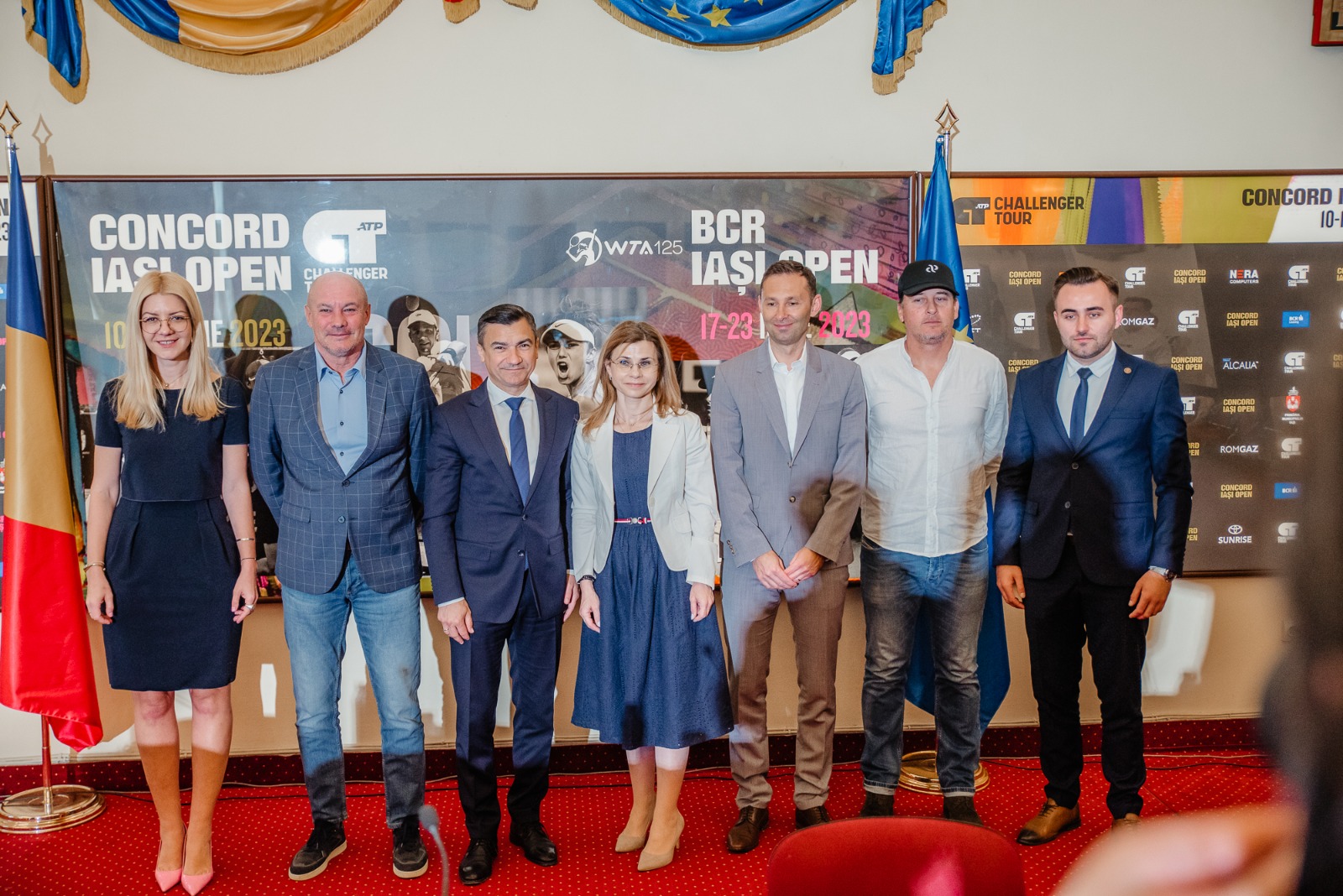 More news
June 03, 2023
If it's June 1, it's Kids' Day in Iasi!
On Thursday, June 1, almost 200 children stormed Grădina Palas in Iasi, to play tennis with two beloved players, Raluca Olaru and Andreea Mitu, but also with the Super Heroes Captain America and Spider Man.